As you might imagine, the range of custom injection molded products manufactured by Plastocon over 50 years is mind boggling. Plastocon molded products are an integral part of a variety of markets including packaging, furniture, water treatment, pressure valves, power equipment, lawn and garden, motorcycles, security and safety.
Plastocon thrives as our work ethic and core values enable us to always deliver the best value, custom engineered (to meticulous specifications) products on time.
From our 65,000 square foot South Eastern Wisconsin production facility the Plastocon team utilizes 36 injection molding machines ranging from 50 to 850 tons, 6 close tolerance electric machines, 2 bulk storage plastic resin silos and a myriad of other cutting edge equipment and technology to deliver a superior injected molded plastic product.
In keeping with the Plastocon commitment to deliver injection molded plastics on time one hundred percent of the time, we even have our own mold repair and maintenance shop integrated into our production facility in Oconomowoc, Wisconsin.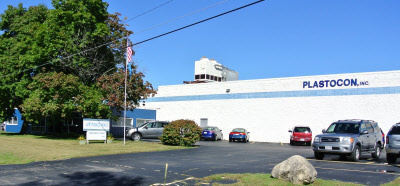 The Plastocon commitment is to always be the best overall solution. Plastocon offers a number of value added services including hot stamping, welding (sonic, vibration, etc.), plastic machining centers, mold repair and maintenance, warehouse facilities for materials part stock, pad printing, silk screen graphics, heat staking, surface treating and more.
Thank you for choosing Plastocon. Every single member of the Plastocon team is grateful for the opportunity to provide a superior injection molded product and for the opportunity to assist you in controlling your budget, delivering a better injection molded plastic product to your customer and winning over the competition in today's global economy.
Contact Plastocon to discuss your project and find the plastic molding solutions you're looking for.